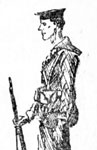 Accoutrements, Naval, Pattern 1901 - Set Displays
Graham Tweeddale / Grant Napier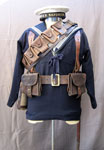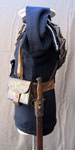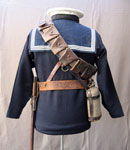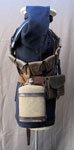 The most complete partial set of Accoutrements, naval, pattern 1901 we've seen yet. Note that the Carriage, waterbottle is not clipped to the Belt, waist (due to age related issues) as per the fitting instructions, but slung below the belt as often seen in period photographs. From the Graham Tweeddale Collection. The accoutrements are displayed on a period uniform from the Grant Napier Collection. Photographs © Graham Tweeddale 2014.
(The HMAS Bandolier tally band in the first photo is not period, but none the less we felt it most suitable to cap a display of Accoutrements, naval, pattern 1901!)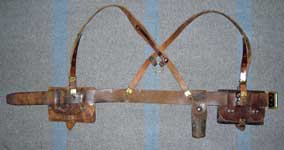 An inside view of the same set of accoutrements as shown above, but less the slung items. Photo © Graham Tweeddale 2011.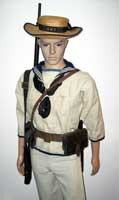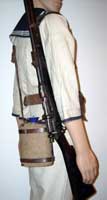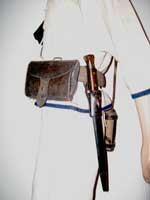 Another partial set, this from Chris Pollendine. Of particular interest is the Mk. I Water bottle carrier, with the Mk. V Water bottle. The Frog carries a Pattern 1888 Bayonet, to fit his CLLE. Uniform notes: The Frock, cloth & Trousers, cloth are of a pattern produced c. 1885 - 1907.  The sleeves are ¾ length, the outside pocket holds the issue jack-knife on its lanyard. He wears the early Gaiters described under Associated Equipment. Versions of the Sennet hat - made of woven grass, & named after the particular weave pattern used* - date back to at least Napoleonic times, but had taken on this form by the 1880's. Finally abolished in 1922, officially, although I have read accounts of them being worn twenty years later, this example is from just before WW1. Photos & text © Chris Pollendine 2012.
*A 'chain sennet' is a method of weaving a rope to shorten it for storage, but allowing it to unfurl with one pull.