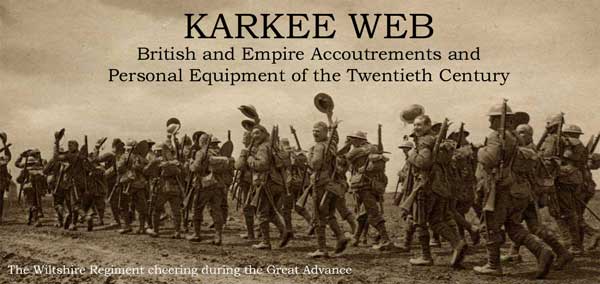 110 YEARS AGO TODAY!
Today, 31 January 2018, is the 110th anniversary of the official adoption of Web Equipment, Pattern 1908, via List of Changes §14288. Karkee Web wasn't around (not quite, although Rog and John, thanks to an introduction by Tom Ready, were already discussing it!) on 31st January 2008, Patt. 08's 100th anniversary, so we wanted to make sure we mention this important date today. What's more, just one hundred ten years ago yesterday, W.E. Patt. '08 was presented to the King. We are still looking for photographs of that event - they MUST exist somewhere! Readers?
As we have said many times in the past, W.E. Pattern 1908 is without question both the first modern infantry equipment AND the most important infantry equipment of the 20th century. It influenced, directly or indirectly, everything that came later, and introduced both ergonomics and modular design to not only military equipment but industrial design in general, years before those terms even existed. And, truth to tell, without it, Karkee Web probably wouldn't exist either. Even now, we are awe-struck by the sheer determination William Wise exhibited in overcoming the prejudice and inertia of the War Office to get web equipment accepted. We are profoundly grateful that he succeeded. Someday, we hope to be able to tell more of that story.
Happy Anniversary!
Is there a British or Empire equipment pattern you would like to see covered in Karkee Web, or one on which you have special expertise? Why not write it up for Karkee Web? Contact us with your ideas, and let's see what we can do together.
Karkee Web is a collaborative effort that depends heavily on the comments and contributions of our readers. We have been up and running for five years now, and in that time we've grown far beyond what we had originally envisaged, thanks to input from collectors and scholars all over the world. We want and need your input. If you have information, photographs, or other data that you'd like to share, or if you have comments, questions or suggestions, please contact us at Webmaster.