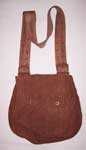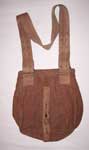 The Haversack. (Mark I.) Brown duck, with removable shoulder strap was approved on 8 August 1901 and announced as part of the Accoutrements, naval, Pattern 1901 by List of Changes paragraph § 11110 of 1st July 1902. In contrast to the other entries in § 11110 the description of the Haversack is quite extensive and even includes a table of the major dimensions. It was described as being made of brown dyed linen duck and fitted with a partition, a 2-inch web shoulder strap 50-inches long and a fixed strap 10 ½-inches long by 1 ¼-inches wide. The dimensions were given as; Depth (including flap) 11 ¼-inches (front) and 17 ½-inches (back), Width (at top of bag) 10 ¼-inches (front) 10 ¾-inches (back) and 12-inches (at widest point).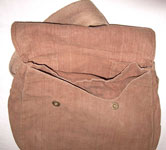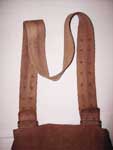 Specification ACD 187 (Approved 15th March 1902) gives further detail, in part, directing that the haversack have two buttons on the front and one on the back, that the 50-inch strap have 21 eyelet holes worked at each end, that the narrow 10 ½- inch strap have four button holes worked there in and that the haversacks be fitted with two brass buckles.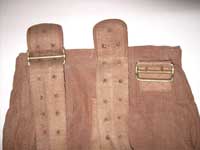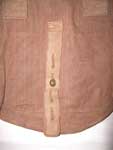 Adjustment of the shoulder strap is by means of the two double tongued buckles mentioned above and the 10 pairs of eyeleted holes in each end the 2 inch strap. The flap is held closed by the two front buttons. The purpose of the narrow strap and button attached to the back or that of the single eyelet hole at each end of the shoulder strap are unknown at this stage as the List of Changes, Specification & Fitting Instructions are all silent on the matter. There has, however been an interesting theory put forward by some members of the KWRT in relation to these apparently redundant features which is expanded on at the end of this section.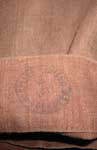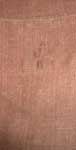 This example is maker marked Richards Limited Aberdeen 1917, is from the Chris Pollendine collection. Photographs © Chris Pollendine 2014.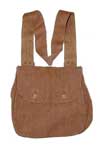 The first example of this Haversack seen by KW, from the Carl Woods collection. Photograph © Carl Woods 2011.
The Theory
The single eyelet hole at each end of the shoulder strap, leads to speculation that if the strap is reversed in the buckles, then the
Haversack
could be worn attached to the brace adjustment hooks in the manner of the "trials"
Haversack
discussed in the introduction. If worn in this manner, it becomes evident that the 10 ½-inch strap may be intended to steady the
Haversack
by being reeved through the ring of the
Braces
& secured by the button. There has been no documentary of photographic proof come to light as yet to support this theory, but Chris Pollendine  has conducted some experiments and it appears to work. If any reader can provide supporting evidence the KWRT would be very pleased to hear from them.