Pattern 1925 Web Equipment - Associated Equipment
Items shown here are not part of the Pattern 1925 Web Equipment. However, they are commonly associated with it.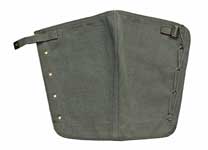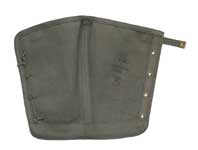 Although labelled Gaiters, blue-grey, by some clerk in the Air Ministry, these actually should be termed "Leggings". A Legging encloses the lower leg only, whilst a Gaiter extends over the top of a boot. These are not technically part of Patt. '25, and although they are sometimes called Patt. '36, they are in fact neither. They were introduced as Item 6 of A.M.O. A.93/1936, as part of an overhaul of clothing for Officers, Warrant Officers and Airmen. Previously, breeches and blue-grey puttees had been worn. The Gaiters were for use of officers, with the newly introduced trousers "...in bad weather...". Airmen were eventually authorised to wear trousers, so use of identical Gaiters was extended to them. This pair of Gaiters is size marked "3", contract marked "925758/38", and dated 1939. The Contract means they are not private purchase for officers. From the John Bodsworth Collection. These photos © John Bodsworth 2008.