Web Infantry Equipment, Pattern 1937
Stores Ref. A1/AA 1370 Pack, W.E. Patt. '08
Stores Ref. A1/AA 1370 Pack
Stores Ref. CN/AA 1370 Web Equipment, Patt. '37, Pack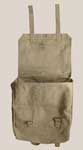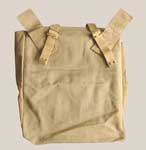 No Pack was listed for the new Pattern, as the Pack, W.E. Patt. '08  was used. This situation, therefore its nomenclature, prevailed until 1 April 1946, when Patt. '08 was made obsolete by L. of C. §C2568. The Pack, W.E. Patt. '08 and Straps, web, supporting pack, W.E. Patt. '08 were retained and the "Patt. '08 W.E." nomenclature was simply dropped. The example shown left is maker marked "H & S" (Hampton & Sons, Ltd.) and dated 1943. Note that the Straps, supporting, are a slightly more yellow colour than the Pack itself. They are in fact Canadian rather than British made. From the Carl Woods Collection, photographs © Carl Woods 2009.
In the V.A.O.S. Section 1A, Accoutrements & Steel Helmets was covered by Vote 7B in the annual Army Estimates, administered by Didcot. In 1951, administration of Section 1A was passed to Branston, who administered Vote 7A. As a result, a new Section, CN Accoutrements & Steel Helmets, was created in the Catalogue of Clothing and Necessaries. L. of C. §C4686 was a complete listing of the new Section CN, with stores codes either acquiring a new prefix, or a new code number, in the rationalisation of the 5000 series of wartime codes. As part of this, the old Patt. '08 Packs and Straps were transferred into the newly sub-titled Web equipment, Patt. '37, which was now a prefix phrase in the nomenclature. Patt. '37 W.E. at last had its own Pack!
During the phase of dual use, manufacturing variations saw laminated thin webbing and laminated canvas with rubber strapping for some flaps and the elimination of Tips, brass, 2-in.on other Packs. This can be seen on the 1943 example shown above, which lacks the Brass tips on its rear tabs.
An observation: viewed from the side, Great War Packs appear to be taller than those of Second World War manufacture. This may be an optical illusion, the sides of the original Pack being narrower, originally. To pin this down, some statistics from collectors would be welcome. As a guide, measure from the top edge, where the front joins the sides, down to the base seam on the sides.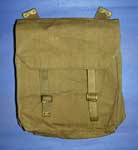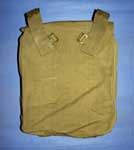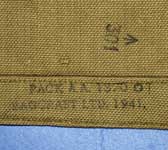 In itself, this is a prefectly normal example of the Pack, W.E. Patt. '08, with none of the deviations from specification that are sometimes seen in wartime manufacture. The markings, though, are extemely interesting. It's maker marked "Bagcraft Ltd." and dated 1941, but it's also stamped "PACK A.A. 1370 OT".
Rog Dennis's first comment was Who was anticipated as being so thick, that they'd need the word PACK stencilling on? We also wonder about the meaning of "OT". Ed Storey has suggested "Old Type", as a reference to it's being a holdover from '08 Pattern W.E., but the more usual abbreviation for this was "OP" for "Old Pattern". The most noteworthy thing about this stamping is that is the earliest example we've seen, by three years no less, of the stores code being marked on a piece of web equipment. With that in mind, it seems possible that the unusual addition of "PACK ... OT" is simply the result of a manufacturer trying to come to grips with a new requirement.
As an aside, an Army Form G.1098 of 1940 gives the code only under Patt. '37 W.E., not Patt. '08. In 1946, A1/AA 1370 Pack, Patt. '08 W.E.  became just A1/AA 1370 Pack.  It's not until 1951 (L. of C. §C4686) that it becomes CN/AA 1370 Pack, Patt. '37 W.E.
From the Ed Storey Collection, photographs © Ed Storey 2010.