Instructions Regarding Kit and Equipment for Officers (1942)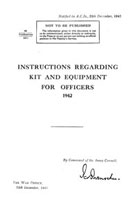 This interesting manual details the uniforms, equipment, and personal kit, including web equipment, required by officers in different areas and type of service. It is included here because it is one of the very few official documents we've found, other than the List of Changes and the FI's above, that mention Pattern 1940 Cavalry Web Equipment. In this instance, Appendix A lists "Web equipment, sets, Cavalry pattern 1940 (including haversack)", as being required for officers in the Horsed Cavalry "during the Present Emergency". From the Karkee Web Collection.
Code PISREVWEBA Identification List for Pistol, Revolver, Webley, .38-inch, Mark 4, 1947 Section B.1., dated April 1947.
There is a secondary code, E.B. 962, the significance of which is not yet understood. This pamphlet is an identification list for the Webley Mk. IV. It includes pictures and parts lists for the Patt. '40 Pistol set.