Karkee Web: British & Empire Accoutrements and Personal Equipment of the Twentieth Century
Contributors' Collections: Simon Braillon
We've now added the photos of Simon's Collection, plus the other information we've found on this equipment, to a new section on Mills Equipment, the Original World Wide Web.
Simon is a French accoutrements collector, and the moderator of a French Great War Forum, histoirémilitaria14-18. Many of the photos shown here were originally published on that forum, and are used here with his permission.
Shown below are a few very interesting and unusual items from his collection. We had previously requested more information on this pattern, and Simon himself has been able to provide it. For more photos and details of Simon's Collection, see the new section mentioned above..
Modèle 1914 Mills Equipment de sangle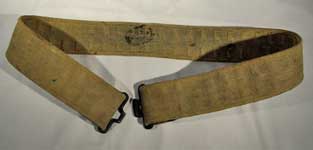 Waist belt. It is 2 1/4-inches wide, made from Mills style flat loop belting, with a US military style loop-and-olivet buckle. There are no rear buckles.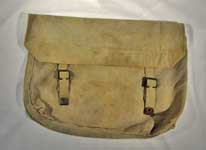 +Haversack. Typical Mills construction overall, with 1-inch angled rear chapes with open bar Twigg buckles, no side chapes.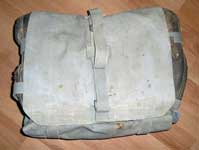 Rucksack.