Karkee Web: British & Empire Accoutrements and Personal Equipment of the Twentieth Century
Contributors' Collections: Merlijn van Eijk
Merlijn is a Dutch uniform and accoutrement collector who has assembled a very nice collection of Australian Leather Infantry Equipment (ALIE). This equipment is also known (unofficially) as Pattern 1915. All photographs on this page are © Merlijn van Eijk 2010.
Australian Leather Infantry Equipment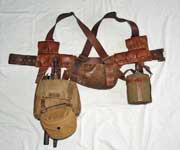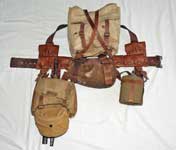 Two view of Merlijn's assembled set, with and without the Large pack. Note the first issue Haversack, which is backed in leather and has a 1-inch horizontal leather loop on the flap. This feature was copied from the second issue Patt. '08 Haversack, and was intended to allow a Water bottle carrier to be mounted on it. An ALIE Water bottle carrier made to match this type of Haversack would be similar to the second issue Patt. '08 version. As yet, though, Karkee Web has not seen any example of such a Carrier. Also note the sixth issue left Cartridge carrier, with the two small straps that wrap around the Belt. Oddly, this feature has been noted only on left Carriers. The mess tin is in what appears to be an Australian made cover, and is carried on the Haversack. This method of carriage is commonly seen in period photos.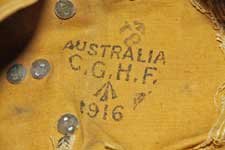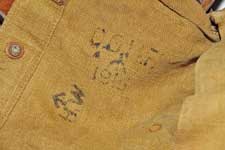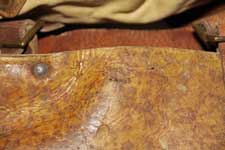 Detail features of some components of Merlijn's set. Far left, the Pack is maker stamped "C.G.H.F." (Commonwealth Government Harness Factory) and dated 1916. Center left, the Haversack is also marked "C.G.H.F." and is dated 1915. Near left is the stamping on the Entrenching tool carrier. It is maker marked "BONNEY / MAKER / BRISBANE" and dated 1916.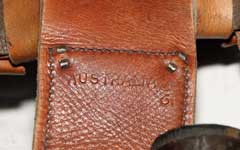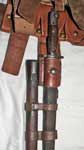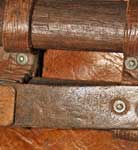 Additional details. The Frog, far left, is marked "AUSTRALIA". The photo centre left shows the Bayonet frog and Helve holder assembled. Note the striated pattern embossed on the leather of the Helve holder, as well as its plain buckle, instead of a roller buckle. These features have not been previously noted on ALIE Helve holders, but are typical of I.E. Patt. '14 Helve holders. It seems likely, therefore, that this is in fact a British made Patt. '14 example. The photo near left show markings on the rear of the Helve holder. The maker's name is not legible in the photo, but it is dated 1915.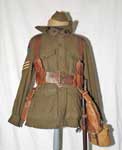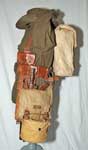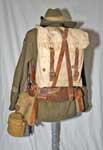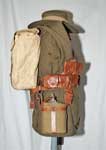 Set displays. The slouch hat and Aussie sergeant's tunic, complete with what appear to be purple over green diamond shoulder patches (18th Battalion AIF), are extremely nice and add to the impression. Also note the wound stripe and the Lewis Gunner's badge.