Karkee Web: British & Empire Accoutrements and Personal Equipment of the Twentieth Century
Contributors' Collections: Graham Tweeddale
Graham is an Australian collector and researcher, and a long-time member of the Karkee Web Research Team. He has been an active contributor to Karkee Web since its inception, and is particularly adept at ferreting through historical archives to locate gems too long hidden. He has graciously shared many of his hard-won facts and figures with our readers, significantly adding to the depth of understanding we have been able to obtain.
Graham's current project will eventually become KW's new page on British Accoutrements, naval pattern 1901. The photos shown here are of his own set of this equipment. As you can see, his set is almost but not quite complete. It is also, as he notes, a mixture of British, Canadian, and Australian made items.
Graham is hoping that our readers will be able to help him by supplying photographs of items from their own collections. If you can provide photos of the items he doesn't have, or of different versions of the ones he shows, then please send them to Pattern 19o1, so he can include them in his write-up.
All photographs on this page are © Graham Tweeddale 2011.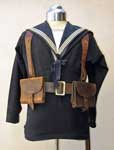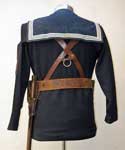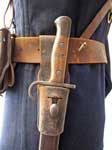 Front and rear views of Graham's set of Naval Patt. '01, followed by a detail of the Frog. The equipment is displayed on a uniform from the Grant Napier Collection.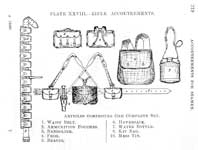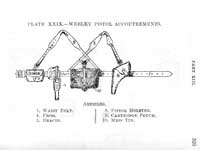 Two plates taken from Rifle and Field Exercises for His Majesty's Fleet - 1913. Plate XXVIII, far left, shows the Rifle Accoutrements, whilst near left, Plate XXIX shows the Webley Pistol Accoutrements. From these two plates, it can be seen that photos of these items are still required:
Rifle Accoutrements: Bandolier, Haversack, Water bottle & Carrier, Kit bag, and Mess tin, Carrier & Strap.
Pistol Accoutrements: Revolver holster (pre 1915 variants), Cartridge pouch (Webley self loading pistol).