Karkee Web: British & Empire Accoutrements and Personal Equipment of the Twentieth Century
Contributors' Collections: Karl Vines
Karl Vines is a British collector who recently discovered this fascinating set of Entrenching tool and Carrier. We have no information on it, other than its existence, but is certainly appears likely that it is one of the many items that were made for TA units interested in upgrading their Bandolier Equipment, Pattern 1903. TA variations of B.E. 1903 are, except for a few photos, almost completely undocumented. We have an ongoing project to fill that gap, and are always looking for readers to help us with new photos and items such as this. KW haven't seen any period photos showing a Carrier like this one in use. Can any reader fill that gap?
All photographs on this page are © Karl Vines 2012.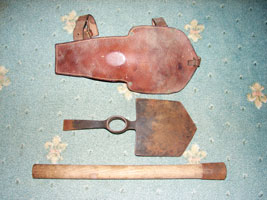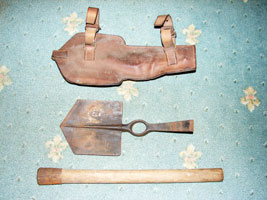 The leather Carrier is marked on one of the straps at the back "Edward Jones C & M 1912", the Entrenching tool head is marked " E & W Lucas Ltd 1911", and the Helve is stamped "Rudders & Paynes Ltd C & M 1911".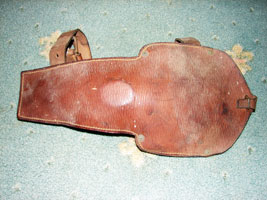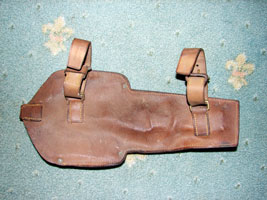 Front and rear views of the Carrier. When Karl found it, the straps were being used to hold the Helve. However, Karl believes (and we agree) that the straps are too long for this to have been their intended function. It seems more liely that they were intended to secure the Carrier to the user's Belt. The Helve would have been carried elsewhere - possibly strapped to the Bayonet scabbard, as with very early W.E. Pattern 1908, or possibly in a Frog.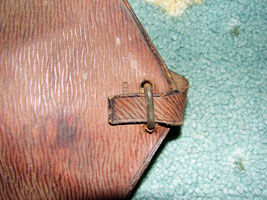 Detail showing the simple closure. It has interesting parallels to the later Quick Release Fastener technique.