"J" Pattern Frog -
Component Data and Illustrations
Known photographs of the Japanese Pattern Equipment in use with U.K. troops are confined to just one photo, in the K.O.S.B. Museum archives, which we are therefore unable to reproduce. This showed neither a Haversack, nor a Water bottle. If these were worn in training, there were quite likely to be obsolete / obsolescent Victorian versions, such were the shortages of accoutrements. Many troops also wore a mixture of Valise Equipment, Patterns 1882 and 1888, which we intend to cover in future uploads.


The issue Japanese Frog was cut to provide twin belt loops, an example being BBF 140 in the late Anthony Carter's Bayonet Belt Frogs. The Frog illustrated at left corresponds to BBF 138, although this example is un-marked. In order that these were compatible with Pattern 1914 Leather Infantry Equipment, a tab was riveted to the reverse for the Patt. '14 Carrier, helve. Of two-piece construction, a waisted piece of leather was folded in half, with a Front, frog stitched and riveted to the front. Two lines of stitching were reinforced, top and bottom, by standard hose rivets and two further rivets at the contour change defined the belt loop. A short strap was stitched to the inside face of the front, which latter was slightly cut away to accommodate the scabbard loop. A Buckle, double was held on a chape, stitched on the outside of the frog front. From the Jeff Hayes Collection. Photographs © Jeff Hayes, 2013.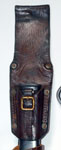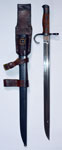 Another example of a BBF 138 Frog. Shown here complete with the Patt. '14 Helve carrier, "J" Pattern Bayonet, and its Scabbard. From the Carl Woods Collection, Photos © Carl Woods 2013.