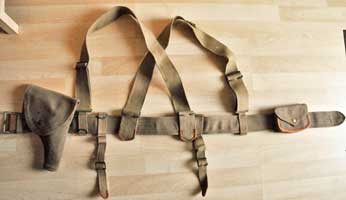 This example is from the Paul Hannon Collection and the possibly incomplete set illustrated is the only example so far seen. No nomenclature is known, since no advertisement has been noted. "Trade Pattern" being an occasional term in Vocabularies, the title here is an ascribed one, with no basis in fact, but will serve as a discrete identification, until more information surfaces. Come on readers – what corroborating material can you come up with?!
The metal fittings are Mills' Patent types, in 2 and 1-inch sizes, but with belt loops deriving from Sam Browne equipment and one new component, a double loop for 2 and 1-inch strap accomodation. Currently, this is not a known Mills product, though a similar component features in Patt. '19 W.E. Cartridge Carriers. The material used is "webbing", but not the 2-inch Patt. '08 webbing stock, but something thinner. The Belt shows stitching all round, so is probably a lamination of two thicknesses. The finished articles do not tie in with either M.E.Co., or M.W.&S. manufacturing methods. Of particular note are the leather binding strips at all strap ends, where cut ends would normally have had Mills Patent brass tips.
The Belt, waist, is the first obvious difference, being only 2-inches wide and fastened with a Twigg, open-bar buckle. It is a plain belt, with a web retaining loop for the belt end, with attachment points for Braces effected in two ways. At the front, "brace attachments" are permanently attached, with an integrated 2-inch buckle on the doubled front section of the Brace. The Braces are further adjustable at the rear, where they connect to Mills' 2-inch open bar buckles on belt loops. Each of the four belt loops is 1-inch wide and has a Sam Browne style metal loop on the bottom edge. With this complexity, the term Brace assembly might be more apposite. Two further runners, fitted with S.B. loops at both ends, are also fitted. There are Straps, utility, passed through the lower loops and buckled to themselves.
The Holster, pistol, is very similar in shape and dimensions to the webbing Colt Auto holster manufactured by Mills' U.S. counterpart. The fold of the flap is at right angles to the barrel section, which is typical for an auto holster. The flap is secured by a press stud (MECo or Trade Pattern?). A leather reinforced Pouch completes this basic set and this approximates in both size and general shape to the S.B. equivalent. Logically, it should be for ammunition, though not the best shape for magazines. It may therefore be a Compass pocket. If the Holster is for an automatic, it would be more logical for there to be a Carrier, magazines, as the Pouch would be more suitable for revolver rounds.  It is possible that this is a complete set, since only a Haversack and Carrier, water bottle, need to be added. The designs manufactured with dog clips, for attachment to Sam Browne Belts, could equally well have been used here.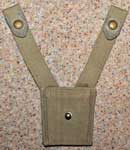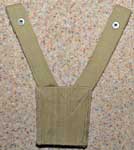 A Frog in the Hannon Collection may be part of this set, though this is not confirmed. However, it would fit the existing attachment points, with very short turn-overs, which are closed by Mills type press studs, although only the crown halves are brass, the spigot halves being nickel-plated. Although manufactured in standard webbing, there is no means of adjusting the "drop" on the Frog, whose straps are in 1-inch strapping. The Mills' design has ¾-inch straps, adjusted with Mills buckles. All photos on this page are © Paul Hannon 2009.
© R.J. Dennis February 2009