As with the 1916 pattern, the weave pattern of Mills Equipment for Officers was fine, involving singled warp threads, rather than the usual doubled threads.
CASE, BINOCULAR, SMALL, with POCKET, COMPASS 4 ½-inches high x 5 ¾ wide x 2 deep
CASE, BINOCULAR, MEDIUM, with POCKET, COMPASS 4 ½-inches x 6 x 2 ¼
CASE, BINOCULAR, LARGE, with POCKET, COMPASS 5 ¼-inches x 6 ½ x 2 ½
CASE, BINOCULAR, EXTRA LARGE, with POCKET, COMPASS 5 ¼-inches x 7 x 2 ½
(Issues 1 to 3)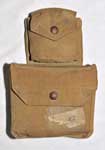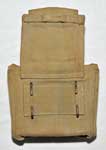 Termed a Field Glass Case by Mills, the term here is the more usual Army nomenclature. The 1st Issue Case, binocular was the basic 1916 design was used externally unchanged, the Case having a simple flap, with weather flaps underneath. Where the Case was made up from pieces of webbing, the Pocket was integrally-woven, with a simple flap, made slightly hooded by sewn-in darts. The 1916 version had a leather liner, which in the improved versions of 1919 was a fibre stiffener, sandwiched between inner and outer layers of webbing, as in the Patt. '37 W.E. design. The example shown here, from the Paul Hannon Collection, is actually an example of the 1916 version, which as stated is externally identical to the 1st issue W.E.I.O. Case, binocular. Maker marked "M.E. Co." and dated 1917.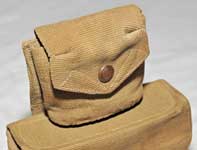 Detail of the Case shown above, showing the simple flap covering the Compass pocket. All photographs of this Case are © Paul Hannon 2010.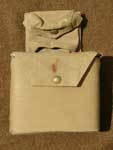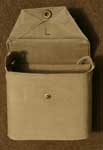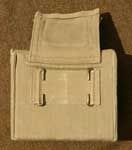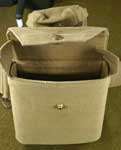 The integrally-woven Compass Pocket was stitched to the upper rear face of the Binocular case. By 1927, the 2nd Issue added a box-lid to the Compass pocket, although the Binocular case retained its simple flap. This example is maker marked "M.E. Co.", dated 1927, and size marked "L". From the Jerry Lee Collection, photographs © Jerry Lee 2010.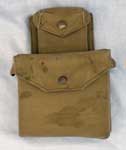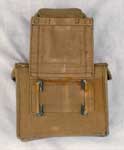 By 1931 a 3rd Issue had a box-lid fitted to the Binocular Case itself. The Pocket had the horizontal loop to secure it to the ring (or square link) of the Brace attachment. In 1929, Web Equipment, Royal Artillery (W.E., R.A.) was introduced, and with it the Binocular case and Compass pocket could be connected together, or worn separately. Despite this innovation, at no stage was the W.E.I.O. assembly made separable. This example is maker marked "M.E. Co." and dated 1931.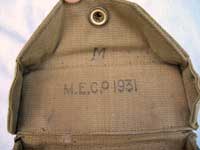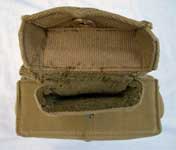 More details of the 3rd issue Case shown above. Box-lids are now fitted to both the Binocular case and the Compass pocket. From the Nick Wall Collection, photographs © Nick Wall 2009.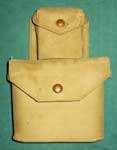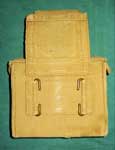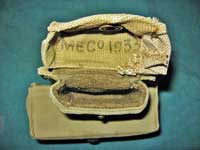 Closely examine the rear of the Compass pocket on this 3rd issue Binocular case. At one time, its owner had added a strip of webbing and two 2-inch brass hooks, to convert it for use with W.E. Patt. '37. At a later date, this was removed, but the scars are still visible in the webbing. This kind of modification seems to have been fairly common - a number of items of W.E.I.O. have been encountered with this alteration. Also notice that the same white thread has been used to repair the lid of the Pocket. This example is maker marked "M.E. Co." and dated 1933. From the Graham Tweeddale Collection, photographs © Graham Tweeddale 2010.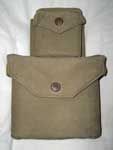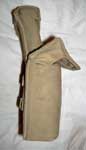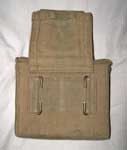 Another example of the 3rd issue Case, binocular. This Case, maker marked "M.E. Co." and dated 1936, is from the Chris Pollendine Collection. All photographs © Chris Pollendine 2010.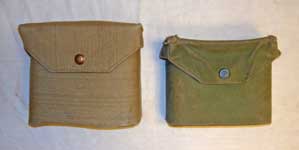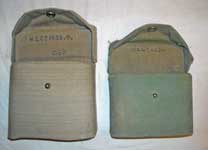 Early examples, at least up to 1923, are not marked with a size letter. This suggests there was only one size, the dimensions given above are taken from a listing dating from 23 July 1931, issued by Elgin Mills Co. Ltd. Cawnpore, who were Sole Agents in India for Mills. Doubtless Mills would have offered a range of sizes earlier than this, but so far only a Large of 1930 has been noted. To put these sizes in a context, a 1936 example of a Medium has been noted as "…substantially smaller…" than the Patt. '37 Case. This was designed to hold the Binocular, prismatic, No. 2, the issue type, first introduced in 1911. Officers bought theirs privately, from what was probably quite a range. These photos show (left in each picture) a 1st issue Patt. '37 Binocular case, and (right) an "M" marked Medium size 3rd issue W.E.I.O. Binocular case that has had its Compass pocket removed. W.E.I.O. Binocular cases, Compass pockets, Holsters, and Cartridge pockets are found in a separated condition reasonably often - this must have been a common practice, presumably to adapt them for use with W.E. Patt. '37. The Patt. '37 Case is maker marked "M.E. Co." and dated 1939. The W.E.I.O. Case is maker marked "M.E. Co." and dated 1936. Both are from the Karkee Web Collection.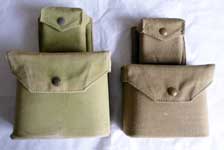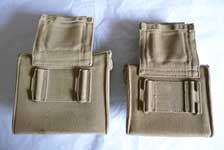 These are 3rd Issue versions of both Large and Small Cases. Note the differences in the front elevations and between the front-to-back dimensions. Binoculars were, like the accoutrements, a Private Purchase and military outfitters offered a range of binoculars, made by such as Barr & Stroud, Ross, Zeiss, etc.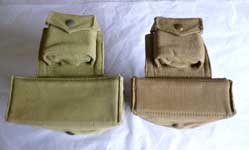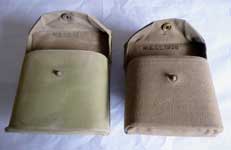 Both Cases are maker marked " M.E.Co." The Case on the left is size marked "L" and dated 1937. The smaller Case at right is size marked "S" and dated 1938. The changeover from 2nd to 3rd Issue has still to be determined. From the Steve Hewitt Collection. Photographs © Steve Hewitt, 2017.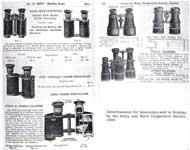 An example of a 1908 Field glass advertisement is reproduced at left. Field glasses in the 19th C were often fitted into Cases with their centreline horizontal, which may have been applicable here.