Web Equipment for Officers (R.A.F.)
Haversacks
The R.A.F. W.E.O. was not simply the Army pattern made in blue-grey, as it was only intended as a means of carrying side-arms, not as a full field equipment. It therefore incorporated features unique to this one pattern, which had not been seen before and which were never used again. There was never a blue-grey Rucksack, although curious provision was made for a Sword frog, despite there being no evidence that the R.A.F. ever introduced a web Frog. In the R.F.C. - an Army corps - there appears to have been a reluctance to conduct air-to-air combat with swords. In consequence, for the R.A.F., the sword was very much a ceremonial item! Aside from officers in the Levies, who used a Sam Browne Belt, the attractive eagle pommel R.A.F. sword was only ever worn on slings, carried on a decorative waist belt. All components were in "fine-weave" webbing.
Haversack, with snap hooks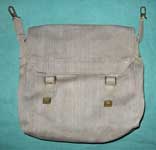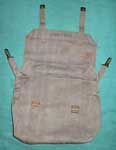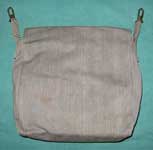 Because there are no Brace ends free at the rear of the Belt, the Web Equipment, Officers, (R.A.F.) Haversack is suspended by snap hooks clipped to the dees at the rear of the Belt and the bottom of the Brace attachments. Like the Patt. '14, Patt. '19, and Patt. '25 Haversacks, it is approximately 9-inches tall by 11-inches wide, and is tapered in profile, deeper (4-inches) at the bottom than at the top (2-inches). Veteran Australian KWRT Team Member Graham Tweeddale has supplied these photos of his Haversack, acquired from the estate of an RAAF officer. It is maker marked "M.E. Co." and dated 1940. From the Graham Tweeddale Collection, photographs © Graham Tweeddale 2010.
Haversack, with open hooks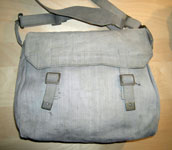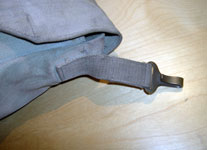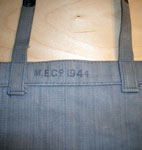 Whilst the existence of a second variation of the R.A.F. Officers' Haversack has previously been reported to KW, this is the first time we've seen photos of one. This Haversack is identical to the type shown above, except that in this version, the Mills snap hooks are replaced with open hooks of the type type commonly used on the Haversack for the Service Respirator and on a few other items of web equipment.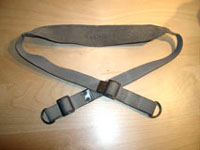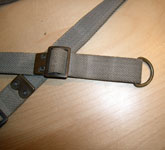 The matching Strap is elegantly made by adding three bar buckles and brass dees to a Patt. '25 Brace. Both the Haversack and its Strap are maker marked "M.E. Co." and dated 1944. From the Chris Pollendine Collection, photographs © Chris Pollendine 2012.
Rog Dennis, revised June, 2012