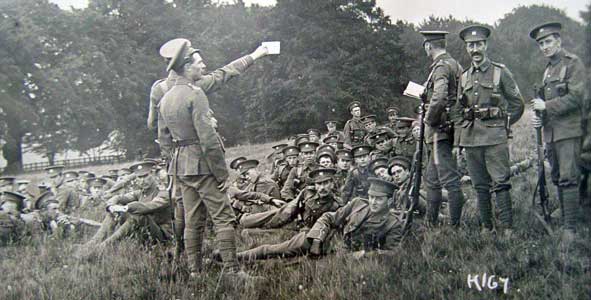 This upload is a little different from our norm, since nothing was presented on a plate. Identification has therefore been largely a matter of serendipity and, on being re-analysed, other units were found to be wearing the same accoutrements, nor were they Bandolier Equipment. 
The postcard above is of The Cambridgeshire Regiment, passed to me in 1988 by Duane Larkin. The regiment were originally the 3rd Volunteer battalion, The Suffolk Regiment, becoming The Cambridgeshire Battalion, Suffolk Regiment (T.F.) in 1908. In 1909, the changed to 1st Battalion, The Cambridgeshire Regiment, albeit still part of the Suffolk Regiment. Their accoutrements were the main focus, as one Sergeant fortunately had his back partially towards the camera. This showed a "Y" Brace – very unusual in British military forces, even Volunteers / Territorials.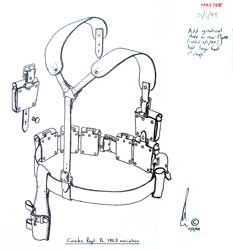 There appeared to be some detail behind the Sergeant's shoulder strap, but this could not be resolved into a brace loop on a chape, so the detail was left for later confirmation. The rest was analysed as an assemblage of Patt. '03 Bandolier Equipment, to which extra Cartridge Pockets had been added. I speculated that a "long" Brace Attachment might have been contrived, threaded vertically through the belt loop of the 10 round Pocket and attached to the Great Coat loop on the Pocket below it. It was not possible to see that the extra 15 round Pockets were any different to standard B.E. ones. The other interesting feature was the bayonet frog, which had a pair of leather loops fitted to the forward edge. That was in 1988. Photo from R.J. Dennis Collection. Drawing by R.J. Dennis, © 1988. By 2013, this interpretation was seen to have been insufficiently bold!! Who would have thought of B.E. style Cartridge Carriers?!
In 2009, Steve Hewitt submitted a photograph of a 15 round Pocket, which lacked the brass loop for the Great Coat Carrier straps. It had been made by EDWARD JONES C & M in 1909. The name meant nothing to us, but the Pocket seemed to be a perfect candidate for the extra Pockets in the Cambridgeshire photo. The four original pockets of B.E., could be retained, but why pay extra for a brass loop on four more pockets, if they were never to be used?!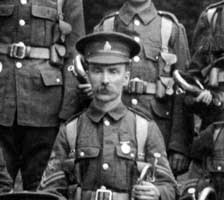 In 2012, Karl Vines submitted photographs of an Entrenching Tool Head Carrier of a form not previously noted. It was made by EDWARD JONES C & M in 1912 and it was most likely to be an item for Territorials using B.E.. Accordingly, we added this Carrier to Steve's "plain" Pocket under Patt.1903 Associated Equipment.
In 2013, Karl spotted several eBay listings - all of them made by Edward Jones, all dated 1914 and all marked IOM. An e-mail to the Manx Museum was answered in hours by Matthew Richardson, together with a photo of an Isle of Man Volunteer wearing the items Karl had spotted. Better still, he was in the process of arranging a set of the equipment for the Centenary commemoration of 1914. The word Volunteer is of particular importance here. Originally the 7th (Isle of Man) Volunteer Battalion, The King's (Liverpool Regiment), they remained as the only Volunteer unit after 1908, since the Territorial and Reserve Forces Act of 1907 did not apply to the Isle of Man!! Why? Let Wikipaedia explain!  http://en.wikipedia.org/wiki/Crown_dependencies#Isle_of_Man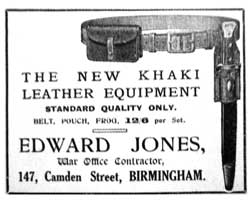 Various Internet trawls were tried, but none of the Edward Jones emerged that was suitable, though one (in Liverpool) was in the leather trade. Then Karl found an article by Ray Westlake in The Armourer Magazine. Though its focus was on the Volunteer Training Corps (V.T.C.) – the Great War's "Home Guard" - it fortuitously included an advertisement for Edward Jones, Currier & Manufacturer, of 147, Camden Street, Birmingham. The manufacturer had been pinned down! Qualified as War Office Contractors, their advert illustrates a simple belt, ammunition pouch – neither of which designs were ever used by the War Office – and a bayonet frog, seemingly of Patt. '14 form.  
In this instance, the advert was aimed at drumming up business from the newly formed V.T.C. It illustrates the simple requirements for the V.T.C., but significant here is the unusual belt, which had opposed single tongues. It meant the belt could be adjusted equally on either side, though here it is a pointless refinement, even if a second pouch was added. However, Jones were selling this belt to Territorial units at least two and possibly five years earlier – as part of something rather more sophisticated. Following existing the Victorian examples, it seemed not unreasonable to ascribe the nomenclature of Jones Pattern Equipment. This belt buckle appeared in several other unit photographs, but was not in itself sufficient to confirm that one pattern was being worn by all of them, despite a few detail differences.