Bandolier Equipment, Pattern 1903 - Associated Equipment
These items were not part of B.E., Patt. '03, but are associated with it in some way.
Bayonet frog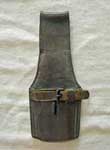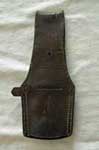 There was no Bayonet frog listed in the List of Changes specifically for Bandolier Equipment, Pattern 1903. The new Pattern 1903 Sword bayonet, intended for use with the new Short, Magazine Lee Enfield Rifle, had a scabbard with an integral belt loop, and earlier pattern Bayonet frogs fit the new Belt without alteration. This example, which is a brown leather variation of the Pattern 1882 Frog, is typical of the many types of Bayonet frogs that were used with Bandolier Equipment, Pattern 1903. It is not maker marked or dated but is stamped "1C V" on the rear. From the Karkee Web Collection.
Water bottle carrier
There was no Water bottle carrier listed in the List of Changes specifically for Bandolier Equipment, Pattern 1903. At the time that B.E. Patt. '03 was introduced, the Carrier, water- bottle.(Mark I.), was fitted with a 5-foot Strap, shoulder, water-bottle, dismounted services. (Mark I.), was in service, having been entered into the List of Changes by §11460, authorised in a string of dates between 7 Dec, 1901 and 13 Nov 1902. A "…mounted…" version of the sling, 6-inches shorter, was also approved. The Carrier (i.e. the cradle part) was modified, by §11769, authorised 26 May, 1903, to have rivets in place of stitching. This arrangement, of a removeable Strap, was changed by §12994, authorised 9 Sep 1905, existing Carriers to be modified and new production to be to this new standard. The resulting assembly was now termed a Carrier, water bottle, with shoulder strap. (Mark II.).
In 1924, L. of C. §A3 changed its nomenclature to
Carrier, water bottle, O.S.
, which denoted Other Services, in other words personnel not equipped with
Patt. '08
, e.g. cavalry, but also artillery, etc. An un-dated (c. 1941) L. of C., §B4510 gives identical
Old
and
New
nomenclatures, but cryptically places "
Detail
" under a Remarks column. Such Detail is taken to mean the simplification to a plain leather strap, without the canvas flare, which was the 2WW standard. Around 1943, an all webbing version was then introduced and the leather seems to have been transferred as the
Carrier, water bottle (Home Guard Pattern)
. A nomenclature of
Carrier, water bottle, O.S., web
ought then to have been listed. However, it is now believed the all-web Carrier remained as plain  "O.S.", being made obsolete with this title by L. of C. §C4686, approved 10 April, 1951. More official documentation would be nice!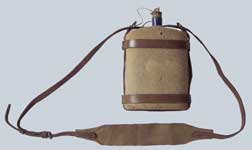 The Water bottle carrier, water bottle, with shoulder strap, Mk. I, From the collection of J. Bodsworth. Photo © 2006 by J. Bodsworth.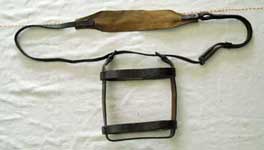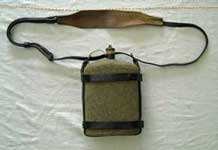 This is the Mk. II version, entered into the List of Changes with §12994, dated 9th September 1905. It is maker marked "[illegible] / LONDON" and is dated 1915. From the Karkee Web Collection.
Bayonet frog, with leather loops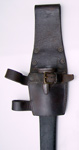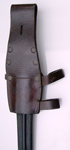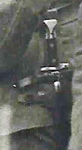 B.E. Patt. '03 made no provision for carrying the Sirhind tool Head and Helve. An example of a web Carrier for the Head is shown below. There seems to have been various techniques for carrying the Helve, but one method was to have leather loops sewn to the Bayonet frog. Exactly such a modified Frog is shown at left. From the Alistair Hayes Collection, photos © Jeff Hayes 2013. We also want to thank Derek Complin for tracking down this example from a drawing made by Rog Dennis back in 1988. At right, details from period photos of this type of Frog being worn by members of the Cambridgeshire Regiment, pre 1914. These details from a post card in the Rog Dennis Collection.
Carrier, head, entrenching tool, Jones Pattern Equipment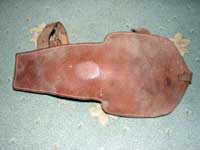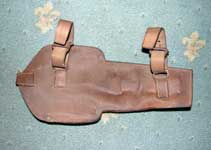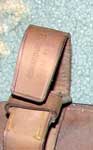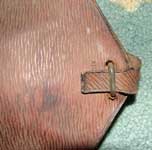 The example illustrated here was submitted for identification by Karl Vines in 2012. It is marked "EDWARD JONES C & M" and is dated 1912. At the time, it was an unknown design, but which looked as though it was allied to Bandolier equipment. There being no provision for carriage of the Sirhind tool's Helve, the modified Frog, brown, G.S. - noted in a photo of The Cambridgeshire Regiment - might have supplied the means. A drawing, speculatively drawn back in 1988, was duly forwarded to Geoff Hayes, who is webmaster of the Bayonet Notebook, with a request that he made enquiries about an actual example. By return of post came the photographs of the Frog, posted above - of the example in the collection of his brother, Al! From the Carl Vines Collection, photographs © Carl Vines 2014.
It was well-known that several T.F. units wore modified forms of B.E., their common aim being to increase the ammunition carrying capacity, without use of the Patt. '03 Bandolier and without needing to scrap their existing holdings of B.E. in favour of purchasing Patt. '08 W.E.. In all cases the extra weight required Braces to be contrived. Whilst the Cambridgeshire Regiment photo showed the modified Frog above, rear views showed that no Head carrier was being worn and no photograph of an Entrenching tool head carrier had been seen. Might Karl's Carrier fit the bill? Might there even be the possibility of a whole new T.F. Pattern of accoutrements? No ready answer was forthcoming!
In 2013, Karl contacted us again, this time with an eBay listing of items all having a strong B.E. flavour, all stamped with one maker's name – and including a second example of the E.T. Head carrier. Each item carried the stamps of one unit. Speculatively, the relevant museum was contacted and an answer was received in mere hours, as the museum had a more complete set! Moreover, the correspondent was making preparations to display this set on a mannequin in 2014, to mark the centenary of the outbreak of The Great War.
This Carrier and associated Frog could conceivably been worn by users of "pure" Patt. 1903 B.E., though photographic proof is still needed. The increased weight would require continued use of the Greatcoat carrier for Belt support. Therefore we have decided to continue illustrating this Carrier here, for the present at least.
In future, we will be adding a new section on T.F. leather accoutrements, some of which were adaptations of
Patt. '03 B.E
., but others being whole new commercial Patterns, inspired by
B.E.
, but which were procured directly by the T.F. Associations and never worn by the Regular units of the British Army. The museum concerned has promised Karkee Web photographs of the dressed and accoutred mannequin, which will form the basis of a Set Display for the proposed KW upload. Roll on August 2014!  In the absence of an "official" nomenclature, this has been ascribed as
Jones Pattern Equipment
, following the example of other Volunteer unit designs.
Australian Medical Pouch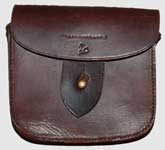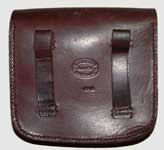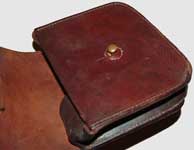 This is an Australian made leather pouch that was used by ambulance and medical personal. This type of pouch was worn with the Patt. '03 Belt, although it was not part of B.E. Patt. '03 as such. The loops on the rear are too small to fit a 3-inch Patt. '08 Belt. This example is maker marked "C. ANDERSON / MAKER / BRISBANE" and dated 1915. On the front covering flap is an Australian government inspectors mark - a broad arrow above the letters AC. Dimensions are about 6-inches wide by 5 1/2-inches tall and 1 1/2-inches deep (155 x 140 x 40cms). The design is reminiscent of some of the British Volunteers' patterns of brown leather pouches, in particular a simplified version of the Valise Equipment, Patt. '82, brown, pouch, ammunition, leather, 40 rounds. Brown accoutrements were introduced only after the Valise Equipment, Pouch, leather, ammunition, buff. Pattern 1882 (Mark III.), together with its black, Rifles counterpart. Army Hospital Corps were issued with just one brown pouch. These ammunition pouches had very long and broad, closure tabs, punched for two closure positions. The flap was also made slightly hooded, by a butt-stitched dart at each side. This pouch more closely resembles that for the flexible saw, which had weather flaps, but which was fitted with various internal loops and a pocket, for a sharpening file, the saw handles and a setting tool. From the Grant Napier collection, photos © Grant Napier 2009.
Tin, mineral jelly, 3-oz (Mark I.)
Cover, tin, mineral jelly, 3-oz (Mark I.)
Cover, tin, mineral jelly, 3-oz (Mark II.)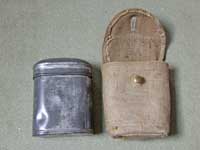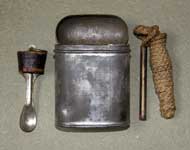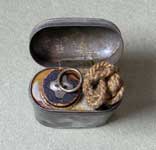 The Tin and its accompanying Cover  were introduced by L. of C. §11950, approved 29th October 1903 (tin), and 4th December 1903 (cover). The tin, of flattened oval section, comprised two compartments. An open one-third for a folded pull-through, and a corked compartment in the other two-thirds. The cork stopper incorporated a spoon, for applying the jelly. The top was closed by a hinged lid, which allowed space for some folded "fourbytwo", a flannelette strip, 4 inches wide, marked in red at 2 inch intervals. One piece was torn off and threaded through the centre loop of the pull-through, in order to "pull-through" (i.e.clean) the barrel.
The items came about as a direct result of the famous "Trial of the Thousand Rifles", an extended service trial, held 1901-02, which tested a proposed new service rifle that eventually became the legendary Short, magazine Lee-Enfield rifle. There were a number of changes made to the trials rifles before adoption, and not surprisingly several of them were not so much improvements as cost-savings measures. J.J. Speed, Superintendent of the Royal Small Arms Factory, Enfield, in his original memorandum of proposal to the Chief Superintendent of Ordnance Factories, had claimed that the new rifle could be built "…at little, if any, extra cost to that of the existing rifle…".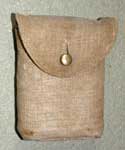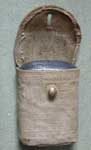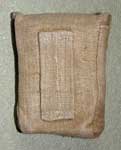 This was a significant factor in allowing the trials to go forward, and every means of shaving the cost of the new rifle was to be used. One of these cost-saving measures was to discard the cast brass buttplate of the Magazine Lee-Enfield, with its integral trap for the oil bottle and pull-through, in favour of a simple stamped steel plate. Rifle grease and the pull-through were still required, though, so a new method of carriage was needed. The new Tin and its Cover were the answer. The first List of Changes entry authorised the new items for Land use only, but L. of C. entry §12186, approved 29th October 1903, extended their use to the Naval Service.
The Cover, actually a pocket, was formed from three pieces of canvas, flap and back, front and sides and a base piece. It was closed with a pillar stud, working in a button hole. A narrow belt loop, of doubled canvas, was stitched flat to the rear face. A simplified Mark II Cover was introduced in 1904 by L. of C. §12327, approved 8th July 1904. The flap, back and base were now formed in one piece and the belt loop was made wider, though the strap accommodation for Patt. '88 V.E. and '03 B.E. Belts, remained the same. When the Tin and Cover were carried on the Patt. '03 Belt, they were on the right side behind the 15-round Cartridge pouch.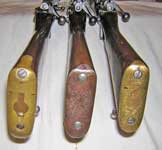 The Tin was not destined for a long service life, as L. of C. §13577, approved 27th March - 12th May 1906, introduced the Rifle, short, magazine, Lee-Enfield (Mark I*). This introduced a new version of the brass buttplate, with trap, for new production, and also authorised the modification of existing rifles to the new standard. With this, the (slightly modified) brass oil bottle was reintroduced for use with the new rifle as the Bottle, oil, (Mark IV), by L. of C. 13470, approved 22nd March 1906. Since all Mk. I S.M.L.E.'s were supposed to be converted to the new Mk.I* standard, it seems reasonable that the Tin and Cover would be declared obsolescent. No documentation has been seen to confirm this, however. The example of the Tin shown here is maker marked "A.J. POOLE | B'HAM" and dated 1906, whilst the Mark II Cover is maker marked "DEARDEN BROS." (a Worcester company) and dated 1904. Both are from the Mike Hibberd Collection, photos © Mike Hibberd 2009. In the photo at right, the rifle on the left is an M.L.E. Mk. I, made by RSAF Enfield in 1895. The centre one is also by Enfield, and is an S.M.L.E. Mk. I made in 1905. The simple stamped steel buttplate of this version is clearly visible. The rifle, far right, was made as an S.M.L.E. Mk. I at RSAF Sparkbrook in 1905, but has been modified to Mk. I* status, complete with brass buttplate, in accordance with L. of C. §13577.