Web Equipment Pattern 1908 - Associated Equipment
Mess Tins, Carriers and Covers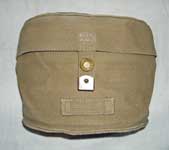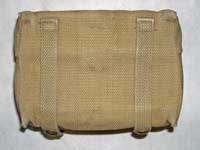 There doesn't seem to be any documentation on this type of web Mess tin cover. A small number of these Covers were found in a box in Australia in 2001. They resemble the typical canvas Mess tin cover commonly associated with W.E. Patt. '08 shown below. These are web, though, with brass fittings on the straps and press fasteners on the belt straps and top. The only webbing Mess tin cover in the List of Changes is the post war one for the Pattern 1919 Naval Web Equipment (see the W.E. Patt. '19 Equipment Carriers page for an example of that Cover). This type is distinctly different from those. The best guess is that they were either private purchase items or a special order for an Australian local militia. Until recently, the only examples I knew of are the dozen or so that were in that one box. However, I just came across a listing for an identical Cover, including the 1913 date, from an auction held in the UK in 1996. If anyone can shed any light on the history of these Covers, please let me know. This example, like all known examples of this type, is maker marked "M.E. Co." and dated 1913.
Top (far left) and bottom views of the Mess tin cover shown above.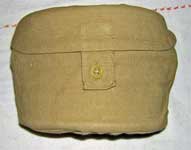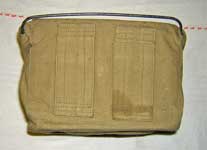 This version of the Mess tin cover differs slightly from the Cover, mess-tin, dismounted men (Mark II) approved by List of Changes entry L. of C. 12326, dated 22 November 1904. The brass ring at the rear of the Cover has been deleted. I have not found a List of Changes entry for that modification. Covers such as this one are referred to by collectors as Patt. '08, although they are not actually a part of that Web Equipment. They are, though, the most common Mess tin covers seen with Great War dates, and while most examples are generally similar to this one, they can vary greatly in detail from case to case. This particular example is marked "ARMY SIGNALS" and dated 1917.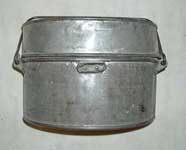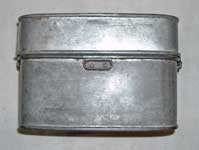 There is no List of Changes entry to introduce for this Mess tin, because the design dates back to the Napoleonic era, before the List of Changes began. Originally, this type consisted of three tinned steel pieces: the bottom, which served as a billie, the top, which with its folding handle was used as a fry pan, and the inner tray, which made a plate of sorts. In 1914, the inner tray was eliminated, and almost all U.K. made examples made after this consisted of the two outer parts only. In Canada, though, some manufacturers continued to make three part tins thoughout the Great War.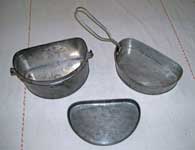 This example has all three pieces. The maker's mark is not readable, but I can make out a Canadian "C" Broad arrow and a dated of 1913. I have seen another Canadian three-part Mess tin with a 1918 date.